Pressure Vessels
Target Designs will work with your own engineering staff to produce Designs to meet your needs.
3D Models can be produced and full Stress Analysis be undertaken to prove the product.
Vessels are designed to relevant design codes e.g. PD5500 and controlled by the restraints of the Pressure Equipment Directive (PED).
Following approval a set of Assembly and Manufacturing Drawings will be produced.
Example 1: High Pressure Combustion Rig.
The rig is capable of operating at combustion inlet conditions of 16 Bar, 900K (623ºC) AND 5Kg/s.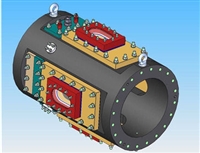 The external casing was Designed around PD5500 and manufactured from a bar of Austenitic Stainless Steel to BS EN 10088-3:1995 (1.4404).
A finite element study was conducted to ensure the structural integrity met the design operating parameters. This simulation study shows that with a design pressure loading of 16.5 Bar(g) a minimum safety factor of 1.4 was achieved at the maximum design temperature (623°C).
This assessment included the optical cassettes, flange fasteners, casing and all associated components.
Our design included an optical combustor to work within the optical pressure casing. This was produced in hand with our client's scientific staff.
The design allowed for a variety of fuel / air mixes to be supplied to the burner.
The combustor used effusion cooled nickel alloys and air purging to cool the viewing cassette windows.
Example 2: Wind Cowl.
A new cowl was required to be produced from GRP to cover the existing wind shield in a 5-metre wind tunnel. The cowl was intended to stop the airflow from below the floor level to the working section above, which at present affects the accuracy of the results obtained.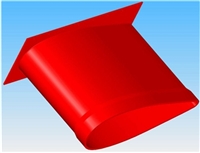 The new cowl required detailed stressing to ensure the design was fit for purpose. A 3D model was generated and imported into an FE system. The general ssumption was that the wall thickness would be no less than 5mm. Material properties for GRFP can vary greatly so assumptions had to be made during the analysis.
Calculations were made to evaluate the overall drag load; a drag coefficient for the profile was extrapolated from graphical data.
The model was ran and the overall level of stress generated,deflection from the load were found to be low and of acceptable levels.
In addition the Cowl was designed to operate with a pneumatic rim seal to allow the cowl to remain sealed when the tunnel floor was raised or lowered.